Quick Links to Info on this Page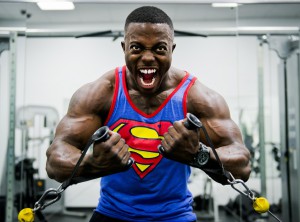 Vegans can be strong too!
Don't believe me? Check out some of the fine specimens in this pinterest gallery – they are all vegan athletes. I cannot say whether they have used certified vegan pre workout supplements or not but they have certainly done something to sculpt their bodies!
Vegan pre workout supplements
PurePump by DO Vitamins
Unfortunately being vegan limits the choices when it comes to foods and products you can consume. Well worry no more my vegan friends – there is now a certified vegan pre workout supplement just for you! It is PurePump by DO Vitamins, and as far as I know it is the only certified Vegan and Paleo product on the market. The fact that it is Vegan friendly in no way means that it is less effective – it is a quality pre workout said to lead to solid performance improvements. Check out more information on this and other natural supplements on the natural pre workout supplements page.
PurePump Natural Pre-Workout Supplement
PurePump - Natural Pre-Workout Supplement - Certified Paleo, Certified Vegan, Non-GMO - No Artificial Sweeteners, Colors, or Flavors
Cellucor C4 Extreme
Another pre workout supplement that many Vegan bodybuilders use is C4 Extreme by Cellucor. The label information does not explicitly say that it is Vegan friendly but the ingredients in it and the fact that many Vegan bodybuilders use it implies that it is Vegan friendly. A couple of misinformed internetters have written that the Beta Alanine in C4 could possibly be derived from chicken feathers but this is a pretty far fetched claim that I have seen no evidence of and highly doubt it. If I was Vegan I would not think twice about using Cellucor C4 and I know of several Vegan lifters that use it. You can read more about it in this C4 Extreme Pre Workout Review.
Cellucor C4 Extreme Pre Workout Supplement
One of the best selling pre workout supplements of all time! Try it for yourself and see why!
---
Vegan bodybuilding tips
---
Follow&nbsp&nbsp



&nbsp&nbsp&nbsp&nbsp&nbsp&nbspShare&nbsp&nbsp





---