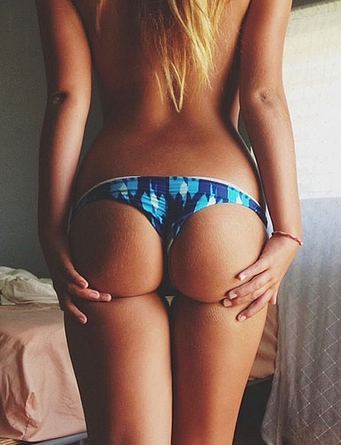 Would you rather have buns of steel or buns of jelly? Stupid question, right? Everyone wants to have a toned and shapely derriere and for fitness models and modern day celebs a nice round bottom is a status symbol. Both men and women are obsessed with ogling everybody's rear compartment, however in today's society the emphasis is definitely on the female buttocks. Everyone talks about Kim Kardashian's butt how many people are talking about the rump of Kanye? To help you get your J-Lo on we have compiled a list of the 5 best new butt workouts for women and if you put in the work you will be Beyonce-ing in no time!
Please keep in mind that in the context of this post "the best" really means "the best in my opinion" but that would look stupid to write everywhere so I have just written "the best".
The Best New Butt Workouts For Women – #5
This routine is great because it can be done in 5 minutes. If you set your alarm for 5 minutes earlier in the morning then you can get up and squeeze in a bonus butt blasting workout. If you have a spare 10 minutes then you can do it twice!
---
The Best New Butt Workouts For Women – #4
This set of butt exercises is to be done in the gym. All the exercises in this routine use the Smith rack or Smith machine which is great as it makes it easier to keep correct form and ensures that you isolate those all important glutes and hamstrings which shape your derriere and thighs.
---
The Best New Butt Workouts For Women – #3
If working out at home suits you more than going to the gym then you will love this one. You will need 20 minutes to complete this routine – 15 minutes for the workout and 5 minutes to recover. Trust me, you'll need the 5 minutes!
---
The Best New Butt Workouts For Women – #2
While it was J-Lo that started the bubble butt revolution it is definitely Kim Kardashian that carries the flag in 2015. This 10 minute booty blasting routine will help develop your rump into the shape the has made Kim famous.
---
The Best New Butt Workouts For Women – #1
If you're serious about taking your thighs and backside to the next level then you will need to hit the gym and this is the workout for you. This routine utilizes various bits of gym equipment and gives you the most butt for your exercise time. Happy squeezing!
---
Don't forget to stretch!
Warming down and stretching is very important to both care for your body and get the most from your workouts. Doing this after every session will enhance your recovery by supplying extra blood and hence nutrients to the muscles that have been worked thereby reducing soreness. It will also increase your flexibility thus helping to prevent future injuries.
---
If you want to really power through these workouts then you might want to consider a pre workout supplement – some of the best ones for women are listed and reviewed here:
Pre Workout Supplements for Women
---
photo credit It's official "The Butt Grab" Pose is going viral…license

---
Follow&nbsp&nbsp



&nbsp&nbsp&nbsp&nbsp&nbsp&nbspShare&nbsp&nbsp





---