Quick Links to Info on this Page
One more rep pre workout review
This is one tasty pre workout supplement! I'm trying to lose a bit of weight at the moment hence my current diet is a definite disappointment to my taste buds, and certainly nothing to get excited about. One thing I do get excited about now though is getting up in the morning and whacking a scoop of 1MR in a protein shaker with some water and savouring its deliciousness. Blue raspberry and fruit punch are both very tasty.
---
1.M.R ingredients
Like almost every other
pre workout formula on the market the ingredients are only listed as part of the proprietary mix, not as individual quantities. This annoys me but this is not the time nor place to go into that. Anyway, moving on we can see that it has the CarnoSyn form of Beta-Alanine which is a good start. There is enough of this to get some facial tingle happening before heading to the gym which is always my highly scientific test :p It also has Creatine to give you a pump and speed up muscle recovery. As well as these fundamental pre workout ingredients it has a killer stimulant blend of Taurine, L-Arginine, Caffeine, Guarana, Yerba mate (whatever that is!) and L-Tyrosine. It also has a bunch of other ingredients which don't add to your pump, energy or motivation but I'm sure they are making your muscles happy.
---
One more rep review summary
Pros: Delightfully delicious taste
Cons: Only seems to last about an hour for me
Energy: Excellent energy without sending your heart racing
Pump: Nice pump.
Duration: 1 hour
Price: Very reasonable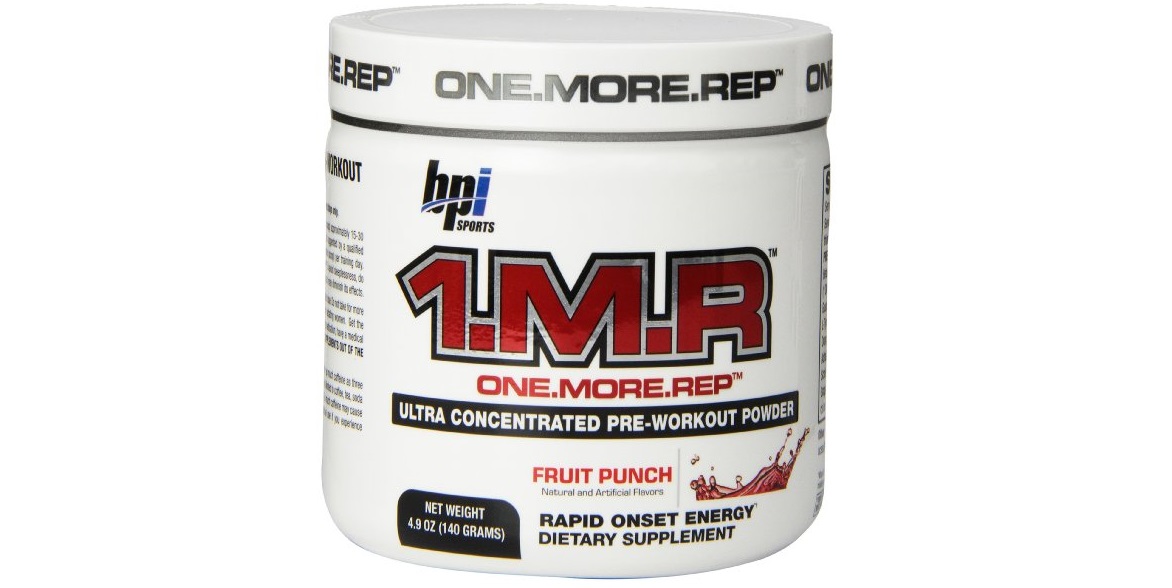 BPI Sports 1.M.R Ultra Concentrated Pre-Workout
"1MR is designed to push you past your limits - giving you the energy and focus you need to dig deep and get in one more rep."
---
Want reviews of other pre workout products?
Check out some other reviews on the pre workout supplement reviews page.
---
photo credit: Young woman weight training via photopin (license)
---
Follow&nbsp&nbsp



&nbsp&nbsp&nbsp&nbsp&nbsp&nbspShare&nbsp&nbsp





---